Teachers' Trampoline Awards
The Trampoline Training School are proud to operate Teachers courses for Trampoline Gymnastics across a number of levels.
The Teachers' Trampoline Awards consists of two parts. Part One must be completed before progressing to Part Two. Part One and Part Two courses may run concurrently, consisting of a four-day delivery.
The Teachers Refresher course is a one day course covering aspects of both Part 1 and Part 2. The Trampoline Training School can also offer an Advanced Add on Module in Trampoline if required as well as offering Mentoring workshops and can set up courses to run at your venue to suit you and your needs.
Professional Development Opportunities
The Trampoline Training School offer a range of Continuing Professional Development (CPD) opportunities for teachers, specifically for use in a school setting. Our education programme for teachers is very popular. All Tutors are fully trained and approved tutors of the Governing Body, and upon successful completion of the course, teachers receive certification from British Gymnastics (Governing Body).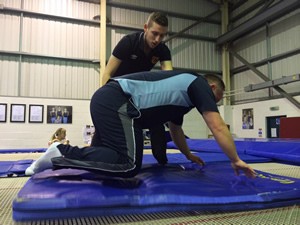 The relationship between The Trampoline Training School and teachers/schools is one that will always be important. Supporting initiatives exist to allow this relationship to develop, and for club to school links to grow and evolve.
In order to be eligible to attend the Teachers' Trampoline Awards, a candidate must be:
A specialist trained PE teacher, or
A trainee PE teacher (undertaking a PGCE, GTP or SCITT or in their 3rd/4th year of a QTS course); or
Teachers who are not PE specialists, but hold a current UKCC Level 2 (or higher) BG coaching award, or equivalent.
"Safe Practice in Physical Education and School Sport", (2012 Edition), states that "An appropriate BG coaching award is strongly advised for staff wishing to offer formal Trampoline gymnastics in primary or secondary schools."